Le Cheese Geek picked the beautiful rue Sainte-Marthe in Paris' 10th arrondissement for our tasting space. From now on we will welcome you at La Cheese Room, 31 rue Sainte-Marthe!
The history of the street
This little, colorful street got its name from Saint Marthe, patron saint of innkeepers and cooks. It's not a coincidence that we're here! The rue Sainte-Marthe is one of a kind: each storefront is painted a different color, yellow, blue, pink, green… The rue Sainte-Marthe is also where artists come for their street art, which is photographed by many curious onlookers and bloggers. 
La rue Sainte-Marthe belongs to a neighborhood which was one of the first working class neighborhoods of Paris: the City of Count Madre, built in the mid-1800s. Over the years, this working class neighborhood transformed into a hip part of town where many small businesses set up shop: cafes, restaurants, art galleries, boutiques… Today the neighborhood has the feel of a small village but it took many years of construction and renovation to get there.  
Our recommendations for the street Sainte-Marthe
La cave à Michel (36, rue Sainte-Marthe): This small but long wine cellar was started five years ago by Romain Tischenko, the chef of Le Galopin. You can get tapas and quality, selected wines. Behind the bar Loulia, passionate wine expert, is more than happy to recommend and have you try different wines in the hopes of finding one that will awaken your senses. Here you'll find wine from every corner of France and beyond, as La Cave à Michel carries wines from the Czech Republic, California, Italy and Croatia, among others… Price-wise there are bottles that appeal to all budgets. You can also stop by to pick up a bottle of wine for home – it is a wine cellar after all! The tapas menu changes every day, but you can find dishes like eggplant caviar (€6), beef tartare (€10) or green bean salad in an anchovy cream sauce (€8). 
Le Galopin (34, rue Sainte-Marthe): Since 2012 this restaurant has been managed by the young chef Romain Tischenko, winner of the first season of the cooking show Top Chef in 2010. It's open Friday and Saturday for lunch and Tuesday to Saturday for dinner. You have the choice between: a gourmet tasting menu for €58 or a variety of dishes off the menu which change regularly. For a starter, for example, try the wild oysters (€14),  langoustine or Norway lobster (€17), or beef tataki (€15). For your main dish try the line-caught cod (€26) or Basque veal scallop (€26), and for dessert a Paris-Brest pastry (€8) or a financier cake, either elderberry or strawberry (€8)
Molo Molo (32, rue Sainte-Marthe): This bar and restaurant is located right next to its big brother, La Sardine, in the little square, and belongs to the same owner. They have good pizzas at affordable prices, from €11 to €13. We especially recommend the Molo Molo, a sort of Margherita pizza with burrata cheese and olives. It's an ideal spot to sit outside with friends for a drink in summer. 
Bar La Sardine (32, rue Sainte-Marthe) : La Sardine is a typical neighborhood bistrot located on the cute Place Sainte-Marthe. You wanna go there for a lunch or to get a fresh beer on their summer terrace. For lunch, they have a starter/ main course/ dessert formula for €16,5. They serve all the bistrot classics: beef tartare, cheese burger or an Italian salad. And it's opened every day, all year!
Mulino Mulè (25, rue Sainte-Marthe) : This teeny tiny restaurant was created by Cedric Casanova -the guy behind « La tête dans les olives », Roberto Rispoli -the former chef of Royal Monceau and Marco Mulè, the farmer that grows wheat and olives. The pasta are home made with their on-site freshly ground whole flour. We recommend this place for lunch with their very reasonable 10€ pasta of the day.
Le Dixième Degré (19, rue Sainte-Marthe): With its colorful facade, this small and warm restaurant offers interesting and different dishes, like tuna tataki (€21), Tahitian-style cod loin (€19) and Lisbon-style piquillos peppers (€15.50). This spot is also known for its selection of rum and its mojito at €7. 
Sadio-Bee (12, rue Sainte-Marthe): This boutique shop makes clothes that mix African styles with modern cuts and different materials like wax, bogolan (a handmade Malian cotton fabric traditionally dyed with fermented mud) and woven pagne. Sabio-Bee also makes tailor-made wedding dresses and suits, as well as unique creations showcased in parades, events and festivals. Their creations have been worn by celebrities, like the actrice Claudia Tagbo, singer Princess Erika and singer-dancer Jessy Matador.  
Philippe Andrieu Art Gallery (8, rue Sainte-Marthe): Philippe Andrieu is a French painter who does modern paintings and drawings. His paintings are often colorful and shows both human and animal figures.
Tierra del fuego (4-6 rue Sainte-Marthe): Its name, which literally translates to "Land of Fire," comes from the small piece of land at the tip of Chile, opposite of Antarctica, where you'll find Ushuaïa. On this small Chilean restaurant's menu, owned by Gonzalo, you'll find traditional Latin American dishes like empanadas, banana guacamole, chili con carne or the daily ceviche for reasonable prices (about €7 for a starter and €15 for a main dish).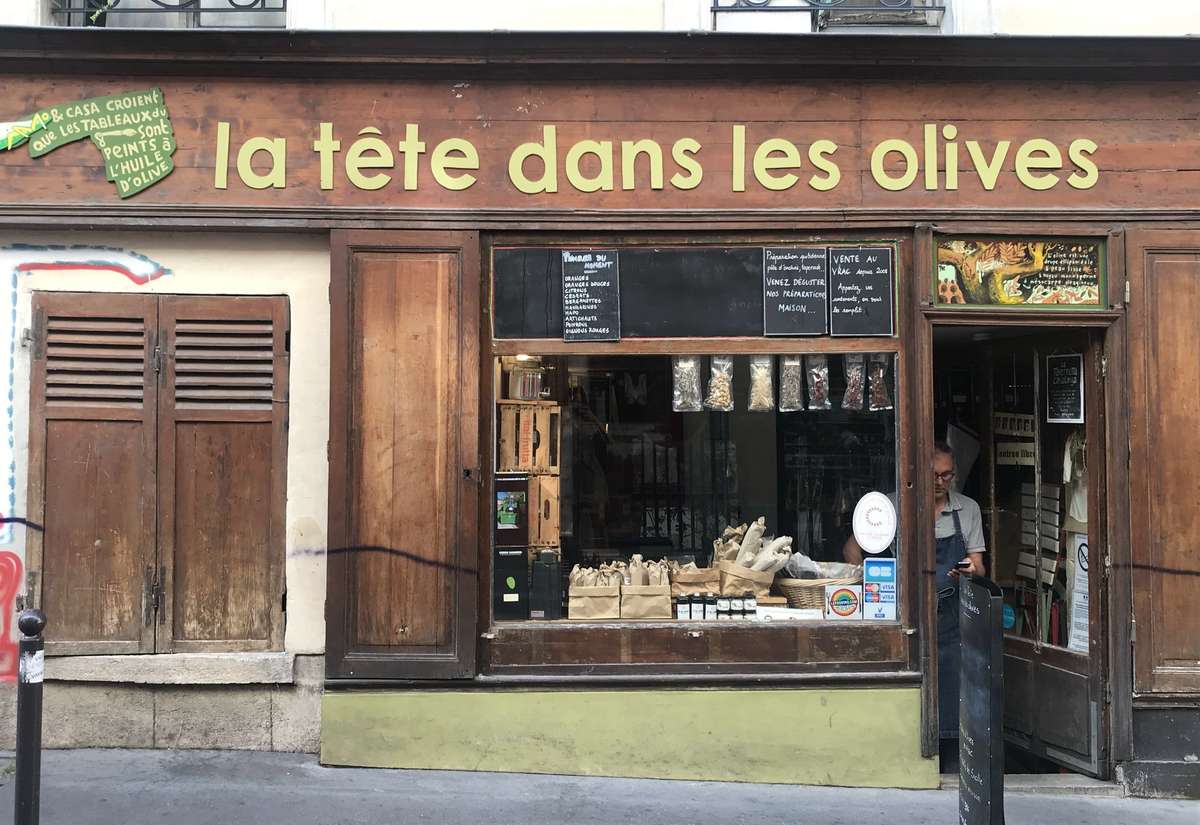 La tête dans les olives (2, rue Sainte-Marthe): This gourmet food store sells mediteranian products, and in particular, those from Sicily like dried tomatoes and lemon confit. You can also reserve (two weeks in advance!) via the website for a 2.5 hour tasting of sicilian products prepared by the house chef, for two to six guests. This tasting is offered for €150, which comes evens out to €30 a person for a table of five. You can bring your own bottle of wine or try a wine chosen by the chef.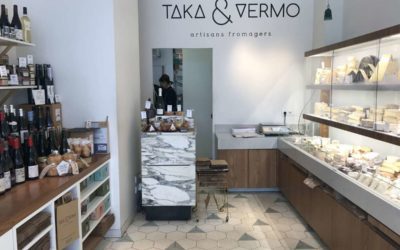 Quelques mois après s'être rencontrés, Mathieu et Laure décident de créer un projet commun autour de leur amour pour les produits laitiers. C'est ainsi qu'après un Tour de France des fromages à la rencontre des petits producteurs, la fromagerie Taka & Vermo voit le jour.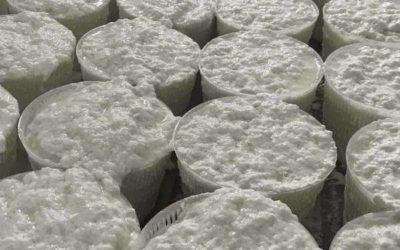 Better than Le Tour de France, le Tour de Fromage 🙂 Let's discover French cheese regions one cheese at a time.
Have a nice trip !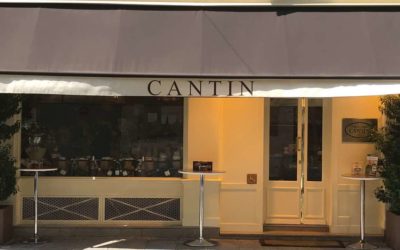 Fromagerie Cantin has opened in 1950, originally created by Marie-Anne Cantin's parents. As a child, she enjoyed selling cheeses and when she turned 25, Marie-Anne took over the family business.