The best Wine and Cheese tasting in Paris
The perfect workshop for cheese-lovers who want to brush up on their classics and taste unique cheeses in a fun, laid-back and friendly atmosphere.
How does your cheese tasting go ?
Sit around a large table surrounded by cheeses for a 2-hour tasting workshop. Far from traditional tastings that are a little… academic, our workshops aim to give you a unique experience.
Our Cheese Geeks want to share their passion for cheese and wine with you!
On the program: meditation, drawing (to learn how to describe a cheese), blind tastings and, last but not least, a fun quiz to show you what you've learned – and all in good fun!
What's included in your cheese tasting ?
🧀 A selection of 6 French farmhouse raw milk cheeses that change with the seasons.
🥖 2 different breads from la boulangerie de La Tour d'Argent (3 michelin-star restaurant, of course)
🥫 Stéphan Perrotte jams (World Jam Champion, no less) and homemade fruit jellies.
📙 A beautiful tasting booklet
🏆 Small gourmet prize for quiz winners!
Beverage options to pair with the cheese selection.
🍷 3 different glasses of organic wines for perfect pairings
🧃1 bottle of Alain Milliat tasting fruit juice (33cl)
Practical information for your cheese tasting
🕒The workshop lasts 1h30
📅 Evenings and weekends
📍in the 5th arrondissement of Paris at cheese shop "Cheese of the World more info about location
👥 12 people max
🎁 Gift vouchers are valid for 1 year.
Click on the « Offer a gift voucher » tab above the calendar.
The best cheese tasting in Paris, duh 😎
Who are your Cheese Geeks, your cheese and wine tasting hosts
We're a nice bunch of Cheese Geeks: creamery-cheese makers, cheese maturers and cheese fanatics.
What's more, we're young and friendly, and we want to have fun with you.

A couple pictures of your cheese class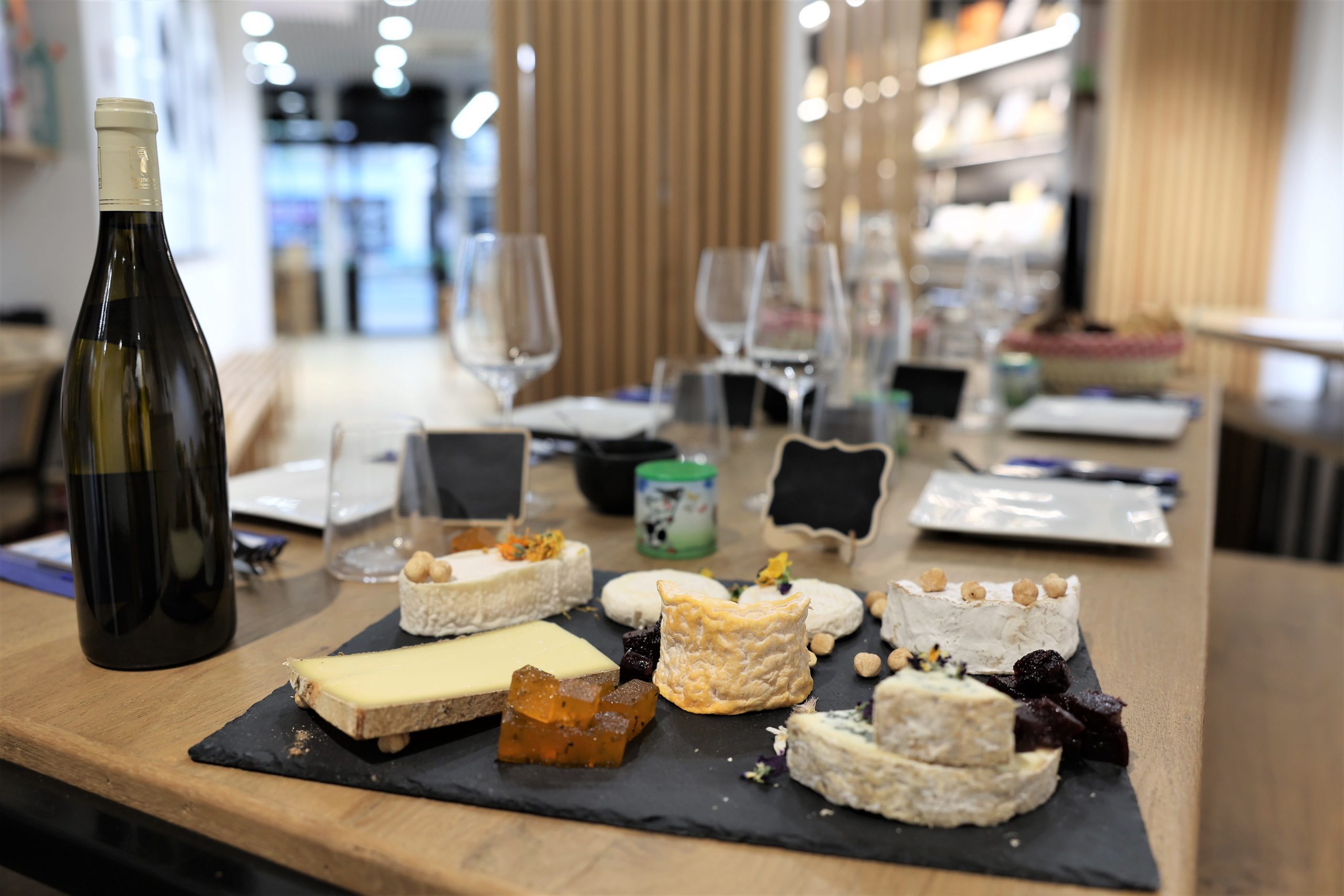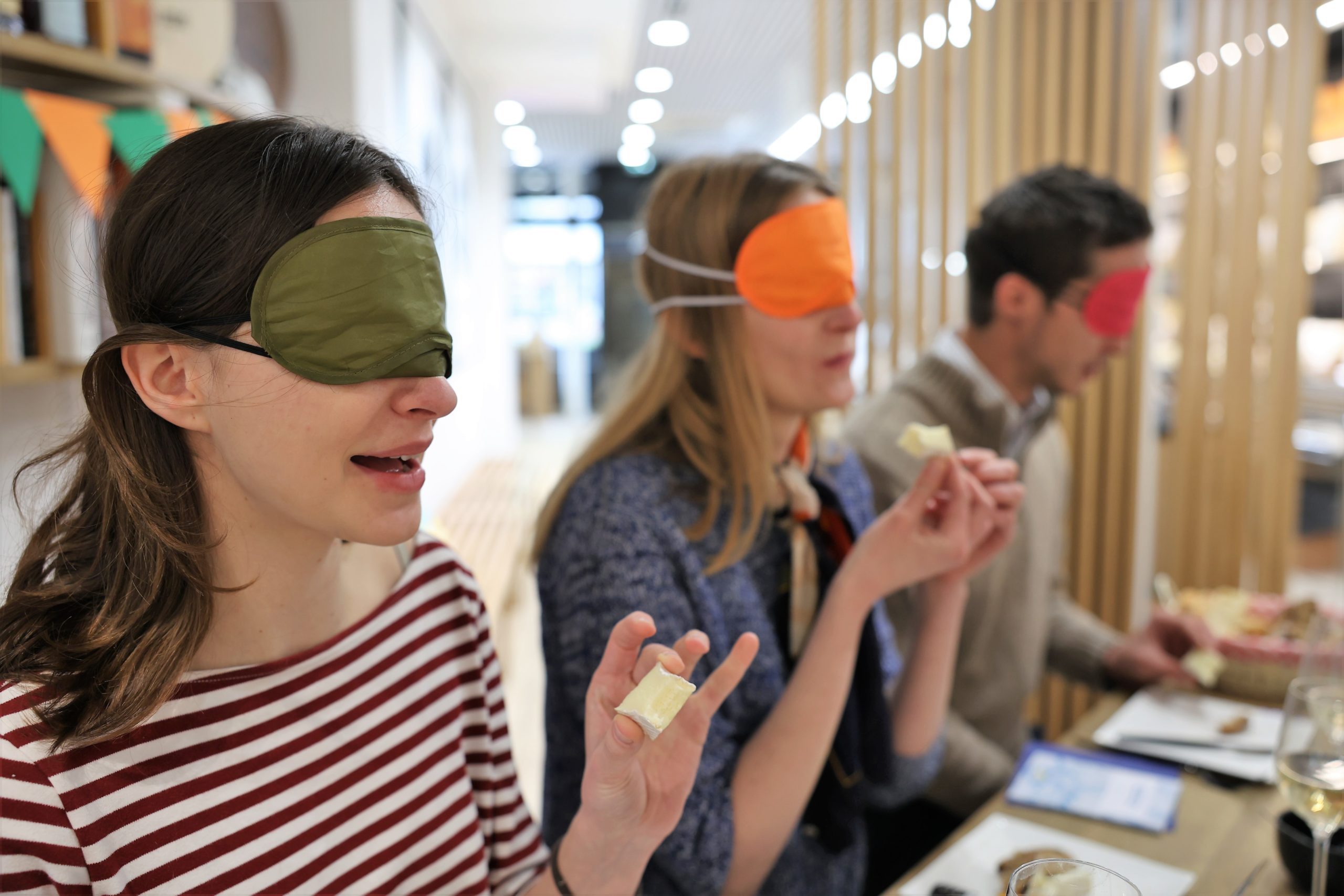 The location of your cheese tasting
Address: 30 boulevard Saint-Germain 75005 (métro Maubert-Mutualité)
We're delighted to be hosting our workshops at the excellent fromagerie "Cheese Of the World" aka COW.
This cheese shop offers a unique concept: in addition to a selection of mostly farmhouse French products (Roll's Royce category), you'll also find a highly original selection of cheeses from all over the world: Norwegian, American, German and even…Nepalese, with a Yak tomme to die for.
The tasting takes place in an intimate room just beyond the cheese counter, where you sit at a large table with the wheels of cheese within easy reach!
We can accommodate up to 20 people in this spaces for groups of friends and colleagues
Need more? We can accommodate you in other partner locations and even come to your office!
Frequently asked questions
What cheeses do you offer for tasting?
We only offer raw-milk cheeses.
We strive to renew our selection every quarter and always offer original cheeses, both French and foreign!
Lingot de Cocagne from Ginestarié farm
Tomme d'Aydius from Ferme Lanset
Vully Noir from Schafer cheese dairy
Pont l'Évêque from the Saint-Hippolyte farm
Herve cheese from Vieux Moulin farm
Blue Shropshire from Neal's Yard Dairy
What pairings do you offer?
We only offer drinks (wines, ciders, beers, etc.) and pairings (jams, honeys, jellies) from organic or sustainable agriculture.
We strive to renew our selection every quarter and always offer you original beverages.
Here is an example of the selection :
Semi-dry Touraine wine from Château de Fontenay
Morgon from K. Descombes
Maury (vin doux naturel) from Clos des Vins d'amour
We also offer original pairings: jams from Maison Perrotte (the world's best jam maker), coffee jelly, candied Espelette pepper..
What level of cheese tasting is required?
Whether you're an amateur or already know a lot about cheese, we guarantee you'll learn a lot about cheese! Our Cheese Geeks adapt each tasting to the level of expertise of the audience.
Do you have specific questions? Now's the time: our Cheese Geeks will be able to answer all your questions! Got a silly question? Don't worry, there's no such thing!
Are cheese tastings suitable for pregnant women?
On request, we can include pasteurized milk cheeses for expectant mothers!
Please let us know at least 24 hours before your tasting at hello@lecheesegeek.com
Do you offer alcohol-free tastings?
For children or people who don't drink alcohol, we offer delicious fruit juices from Alain Milliat that go perfectly with our cheeses.
What dates are available?
Availability is directly visible on the online calendar.
We generally operate on Sundays at 4pm and aim at adding more and more dates with time.
If it doesn't work with your schedule, you can always contact us to add a date in the calendar or privatize a session for your group
How do I use my gift voucher?
Using your gift voucher couldn't be easier:
Following your reservation, you will have received a confirmation e-mail with an attachment containing your gift voucher code beginning with RG.
1. Go to https://lecheesegeek.regiondo.fr/voucher and enter your code(s)
2. Select the desired slot
3. Enter your personal details
4. You will immediately receive your ticket by email.
Can I change the date of my tasting?
You will find all our conditions for rescheduling in our General Terms and Conditions of Sale.
Please send your rescheduling request to hello@lecheesegeek.com, and we'll get back to you as soon as possible.
Can I cancel my tasting ?
You will find all our cancellation conditions in our General Sales Conditions.
Please send your rescheduling request to hello@lecheesegeek.com, and we'll get back to you as soon as possible.
Is it possible to privatize?
We can organize private event from 4 people to hundreds.
Please refer to "For Groups" tab in the menu or send us a message at at hello@lecheesegeek.com, indicating the desired date, the number of people and a short description of what you want.