Fromagerie Marie Anne Cantin: the most authentic cheese shop in Paris!
Disclaimer: we are trying our best to translate into English, but it probably won't be perfect! If there are any bilingual cheese geeks that want to give us a hand in translating, please reach us at hello@lecheesegeek.com
BIG THANKS!
The most authentic cheese shop in Paris
Fromagerie Cantin has opened in 1950, originally created by Marie-Anne Cantin's parents. As a child, she enjoyed selling cheeses and when she turned 25, Marie-Anne took over the family business. Today it is still with the same energy and friendliness that Marie Anne Cantin and her husband welcome you in their lovely shop. There is a large selection of goat cheeses but also old comtés (they even have one that is aged more than 40 months). No need to go there, you can also order their cheeses on their website and be delivered or find them in some partner Monoprix stores.
What we can only find at Fromagerie Marie-Anne Cantin
Our selection of "Boutons de culotte" (Panty buttons), very small goat cheeses perfect for an aperitif.
Marie-Anne Cantin, the cheesemonger
Which cheese do you prefer ?
Le Coulommiers. I like Brie and Camembert bur for me Coulommiers is the most generous and creamiest.
Is there a cheese you don't like?
I don't hate any cheese. But I am less sensitive to tasteless and impersonal cheeses: the whole category of pasteurized, industrial cheeses don't really fancy me!
Do you eat lots of cheese ?
Everyday. Every evening at the end of the dinner, and in my cheese shop when I'm hungry, I eat a slice of cheese. I don't eat lots of cheese but a few every day.
Do you have a funny anecdote to share with us?
Clients often get the wrong name of cheese. They say "I would like a « Bouton de braguette » (Fly button) instead of « Bouton de culotte (the panty button) or they ask for a « Trou du cul » (asshole) " instead of « Trou du cru » (raw hole)
Do you have an important moment in your career to share with us?
When I saw the famous actor Philippe Noiret coming in my shop, it was at the beginning of my career. I was shocked, I couldn't talk anymore. We were just opened, it was in 1982 and he came in with his voice and his stature. It was moving.
Marie-Anne's tasting tips
A cheese and beverage pairing?
I love Normandie cheeses with cider. A Camembert de Normandie with cider, it's great! There is also the « imperial pairing » : yellow wine with Comté. I tasted a 1959 raw champagne with Maroilles (smelly cheese), it was amazing!
I love a quince paste (not too sweet) from Portugal and it's true that quince paste pairs fabulously with lots of cheeses.
Which cheese do you sell the most?
Comté, Norman Camembert, goat cheese and Saint-Nectaire: the classics. My clients are regular customers. Some of them or even the grand child of my parents' clients, which doesn't make my any younger. Those clients get used to some taste and maturing.
Which cheese can we only find in your cheese shop
An old Comté aged for 40 months. Each year, I choose my Comté from my producers with whom I have been working for years.
We can find your cheese at Monoprix, can you telll us more about this partnership?
Sure, I have worked with them since 2007. There, you can find Comté, Saint-Nectaire, Camembert de Normandie, Tomme de Savoie, Roquefort…37 cheeses in total. At the beginning, I didn't want it because it was too big of a challenge. It was risky because it meant I couldn't spend time on presentation and the sales. But we established very strict specification with our producers.
What has this partnership brought you?
I find it interesting to be able to find farmhouse cheeses in supermarkets. Some customers discovered me thanks to Monoprix and they now come to see me at the cheese shop and conversely I have customers who no longer come to the cheese shop because they have a Monoprix closer to their home. This partnership has been very rewarding because it has forced me to question myself, to innovate and so on.
Where did your passion come from?
I was born in a Camembert. I was born in 1950 when my parents opened their first cheese shop. As a child, I enjoyed helping my parents very much. I had my own apron and I sold cheese, I loved it. At 20 I rebelled but at 25 I come back and I took over the business.
In a word, the Marie Anne Cantin cheese shop is the most…?
In short, go to Fromagerie Cantin:
– If you are attached to the transmission of traditions from generation to generation because the cheese shop has been in the same family since its creation in 1950
– If you love comtés because Marie Anne Cantin has an impressive selection of comtés that she chooses directly from the producers each year.
– If you are looking for very good Portuguese cheeses such as Queijo Vale da Estrala PDO sheep's cheese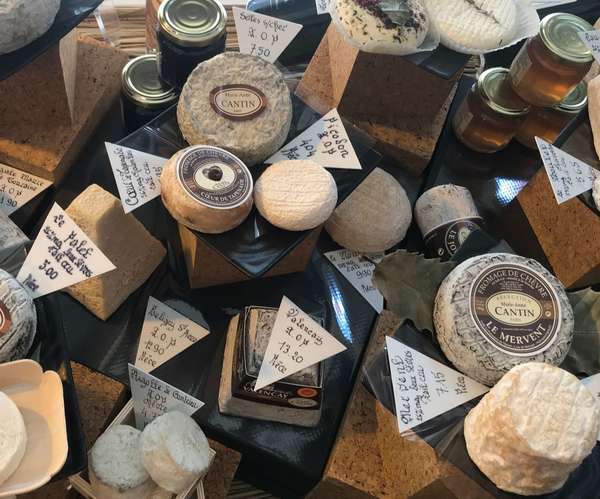 Fromagerie Marie Anne Cantin
12, rue du Champ de Mars
75007 Paris
01 45 50 43 94
Opening hours:
Monday from 2pm to 7.30pm
Tuesday to Saturday from 8:30 am to 7:30 pm
Sundays from 8:30 am to 1 pm
Website: https://www.cantin.fr/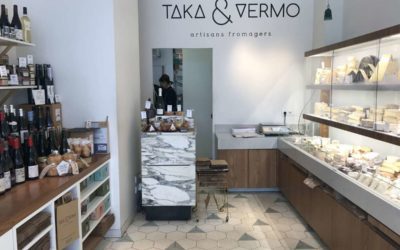 Quelques mois après s'être rencontrés, Mathieu et Laure décident de créer un projet commun autour de leur amour pour les produits laitiers. C'est ainsi qu'après un Tour de France des fromages à la rencontre des petits producteurs, la fromagerie Taka & Vermo voit le jour.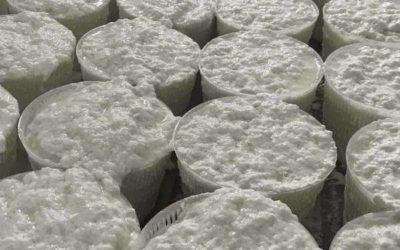 Better than Le Tour de France, le Tour de Fromage 🙂 Let's discover French cheese regions one cheese at a time.
Have a nice trip !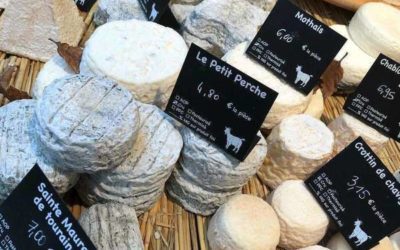 Connaissez-vous les 7 différentes familles de fromages?
Découvrons ensemble ces différentes familles et leurs particularités..