Our new hood : Belleville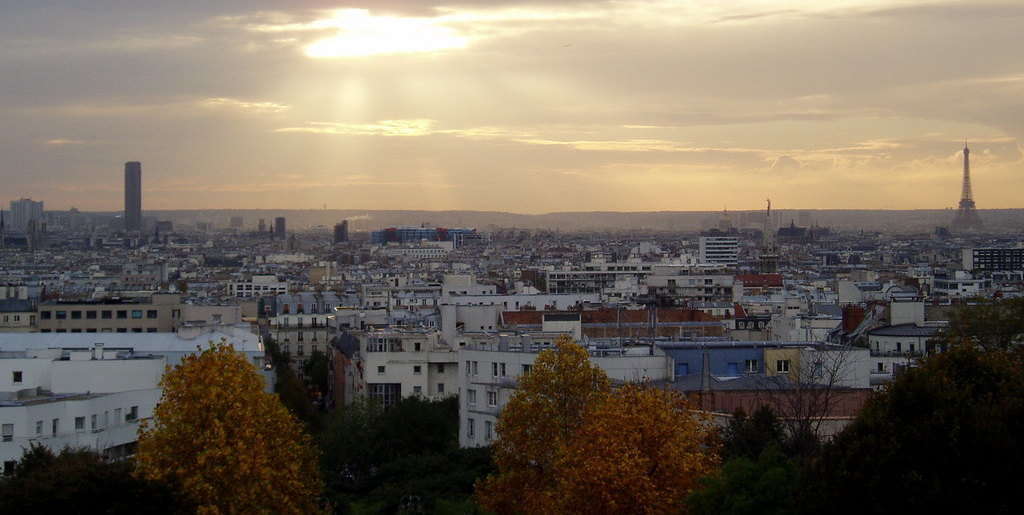 We recently moved our tasting room to rue Sainte-Marthe, located in the Belleville neighborhood. We made a little list, for ourselves but also for your benefit, of the neighborhood history, restaurants, bars and parks…  There's something for everyone! 
Before becoming Belleville the area was known as Courtille, a small village dating from the Middle Ages in the wine-growing hills belonging to large Parisian abbeys. In the 18th century, Courtille became known for its dance halls. Parisians would come here to drink, especially "piquette" (meaning young, sparkling wine) because the district wasn't part of Paris and, thus, wasn't taxed on wine. The name "Belleville" appears only in the 19th century. It comes from "Belle Vue," or Beautiful View, because it offers a stunning view of the whole of Paris, one of the best along with Montmartre. 
In 1860, Belleville was annexed by Paris. At the end of the 19th century, the capital underwent a transformation under Haussmann, the administrator who carried out massive public works and urban development, giving us the boulevards and parks that exemplify the Parisian style today. The working class, driven out by the restructuring of the city, took refuge in the suburbs, especially in Belleville. The 20th century was characterized by its immigration, wars and deportation. People from all over came together to form its distinct and important sociocultural diversity: Armenians, Russians, North Africans, peoples from the Balkan states and Asian countries… Today Belleville is one of Paris' rare diverse neighborhoods, and that's why we like it! 
Our Recommendations in the Neighborhood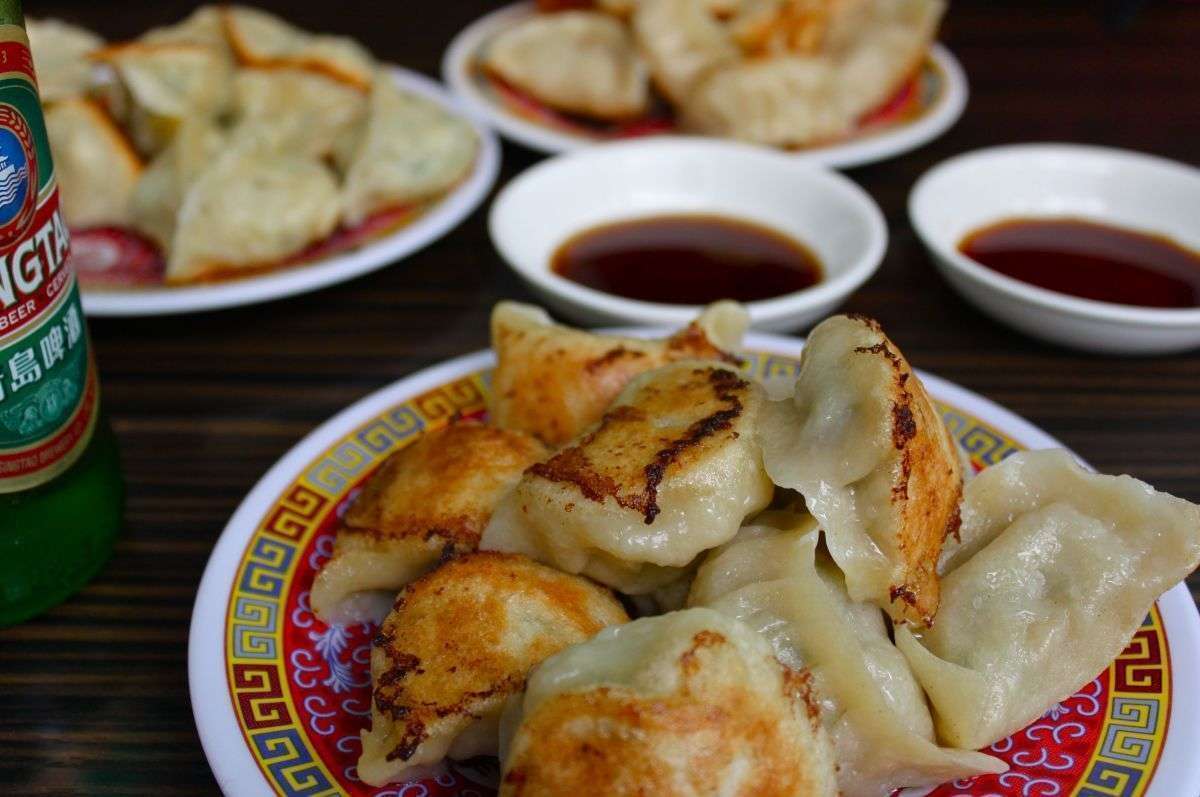 The restaurant Ravioli Nord Est (11, rue Civiale): Their specialty is their name: pot stickers. Home-made, grilled or steamed, here you'll find pot stickers filled with pork/sauerkraut, beef/celery, lamb/onions, only €5 for 10 pot stickers… You can tell the restaurant is successful: it's busy and it's noisy, but that's what we like about it!
Le Baratin (3, rue Jouye-Rouve): This small, bistro-like fine dining restaurant was created by the Argentinian chef Raquel Carena and wine expert Philippe Pinoteau. Their most popular dishes? Lemon braised veal sweetbread, suckling lamb shoulder, or better yet veal brain in lemon-infused butter. Please note: we recommend making reservations ahead of time because this one's pretty popular.
La Fontaine de Belleville (31-33, rue Juliette Dodu): La Fontaine de Belleville is exactly the kind of Parisian cafe-bistro we love, great for lunch or for grabbing a drink at the end of the day. On the menu: fresh dishes, mostly organic, salads, and what they claim is the best Croque Monsieur in Paris! All served with artisanal beer and organic wine, of course… Every Saturday from 4:30 pm to 7:30 pm they put on a jazz concert!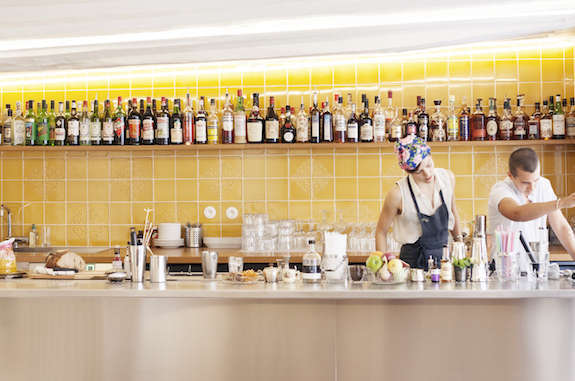 Combat (63, rue de Belleville): Combat is a cocktail bar with a minimalistic decor that owes it name to what used to be called, in 1945, "Combat Square," now Colonel Fabien Square. Behind the bar are two bartenders from the well-known Experimental Cocktail Club: Elena Schmitt and Margot Lecarpentier. We recommend trying the Rhydypandy cocktail: Ocho tequila, Drouin Pommeau, fresh fennel juice, lemon juice and maple syrup. To go with your cocktail grab one of their shared dishes to snack on!
La Commune (80, boulevard de Belleville): La Commune is a bar created by the same team as the cocktail bar Le Syndicat. A modern-style punch is served not in a glass but in a giant, silver bowl. French spirits are put in the spotlight here, just like at Le Syndicat.
Moncoeur Belleville (1, rue des Envierges): Moncoeur Belleville is a restaurant and neighborhood bar with nice outdoor seating that overlooks all of Paris and the Eiffel Tower. Every day during the week, from 4 pm to 8 pm, they have Happy Hour, with cocktails starting at €6 and a pint of beer at €4.50. An ideal spot to grab a drink with friends while the sun sets over Paris.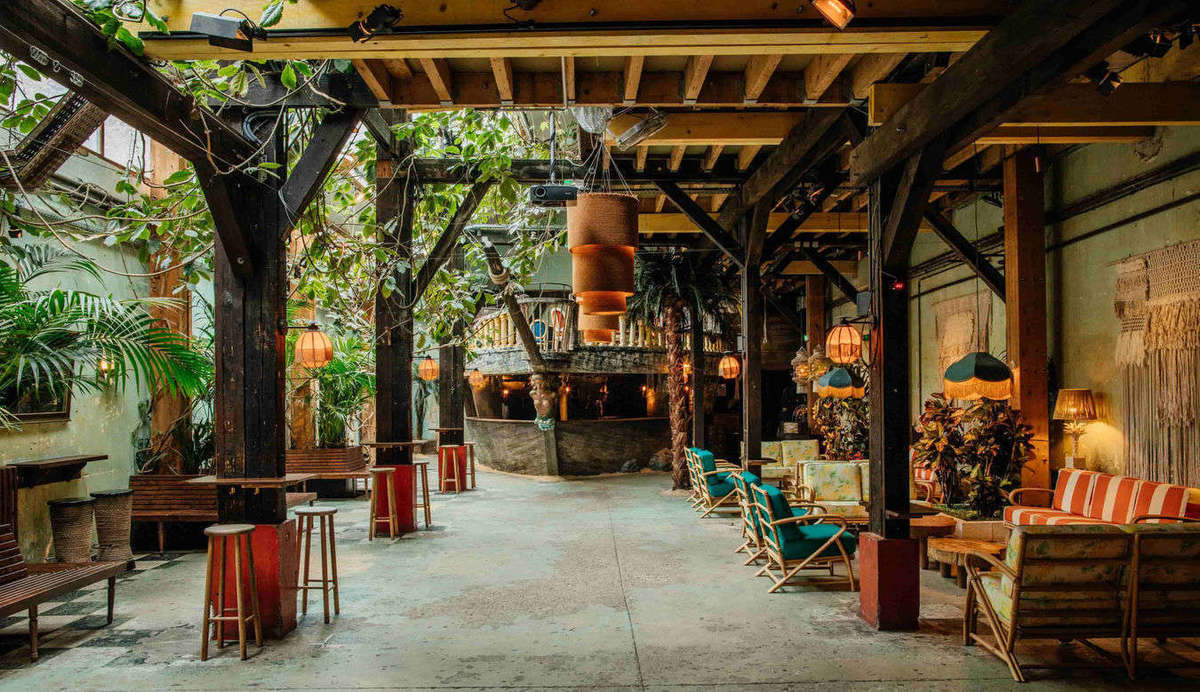 Le Comptoir Général (80, quai de Jemmapes): Let's just say that Le Comptoir Général is not your ordinary Parisian bar. Converted into a bar from an old stable, Le Comptoir Général, right next to the Saint Martin Canal, is impressive for its size, high ceiling, old-looking decor, mismatched furniture and couches… oh, and its wooden pirate ship bar. They serve both classic and original cocktails, like Secousse with African influences, which has vodka, hibiscus, passion fruit and cucumber. Please note: we recommend coming earlier in the evening, and during the week, because this spot is pretty popular. 
La Java (105 rue Faubourg du Temple): Long ago Java was once one of the most well known clubs of the capital, frequented by celebrities like Edith Piaf and Jean Gabin. Java has since been a cult spot that welcomes any and all kinds of music imaginable, from classic French music to the most avant-garde electro. It's open until 6 am, so the Belleville night owls often end up here… Check out their website for all upcoming events.
Le Tiki Lounge (26 bis, rue de la Fontaine au Roi): Le Tiki Lounge, hawaiian style. On the menu for cocktails are all kinds of rum recipes, like Mai Tais, Pina Coladas, or Machetes, all €6 during Happy Hour, from 6 pm to 8:30, then €8 to €12 from 8:30 on. 
Buttes Chaumont Park: Created in 1867 and inaugurated in honor of the World Fair, this park is one of the largest green spaces in Paris. With rolling hills, you can see Monmartre from its peak. The park is open daily and until 10 pm in summer. Our favorite: Le Pavillon Puebla in the heart of the park is a hidden bar in an unusual pavilion that dates from the 19th century where you can spend your summer nights. 
Belleville Park: The park offers an extraordinary, unobstructed panoramic view of the city. As a testimony to the neighborhood's wine-producing past, the park has 140 grapevines which produce four to six pounds of grapes each. It's open every day and until 9:30 pm in the summer.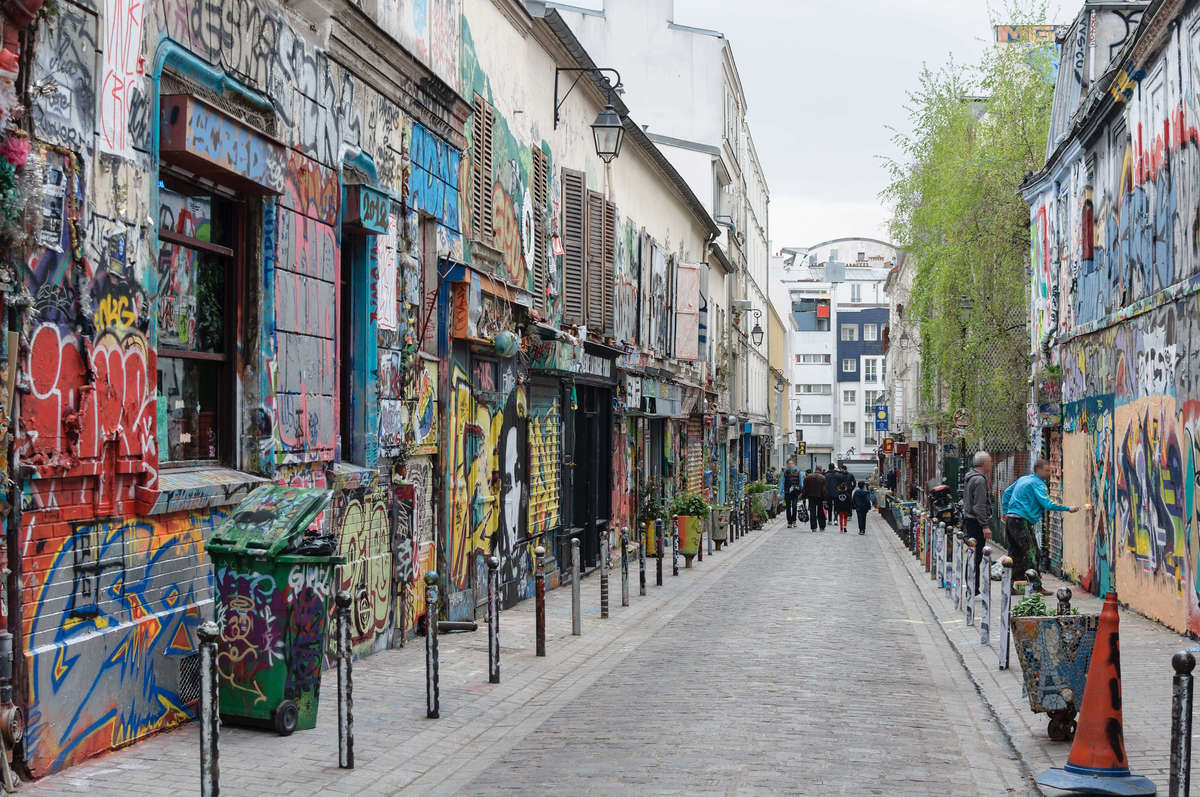 La rue Denoyez: Paris' street of street art. This little pedestrian passageway houses workshops and art galleries, but that's not all, as colorful graffiti covers the entirety of the street. At first Paris' city council would regularly paint over the graffiti but over time decided to let the artists use the walls as their canvas.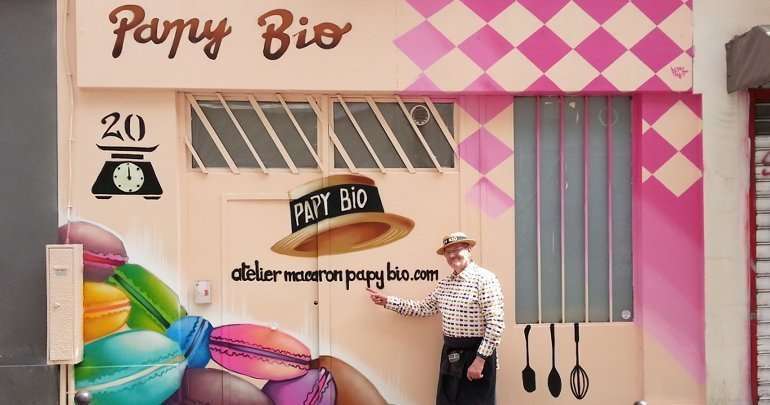 Atelier Macarons Papy Bio (20, rue Jean et Marie Moinon): In this studio, run by Papy Bio, you'll learn how to make your own macarons from a traditional recipe. The class, limited in size, is two and a half hours long and costs €99 per person. You'll take home about 10 macarons and the famous Papy Bio recipe to make your own macarons at home. What's more, Papy Bio only uses gluten free, natural and organic ingredients. And if you just want to buy macarons, no worries: they are sold for €27 for a box of 20 sweet macarons, and €32 for a box of 20 savory macarons.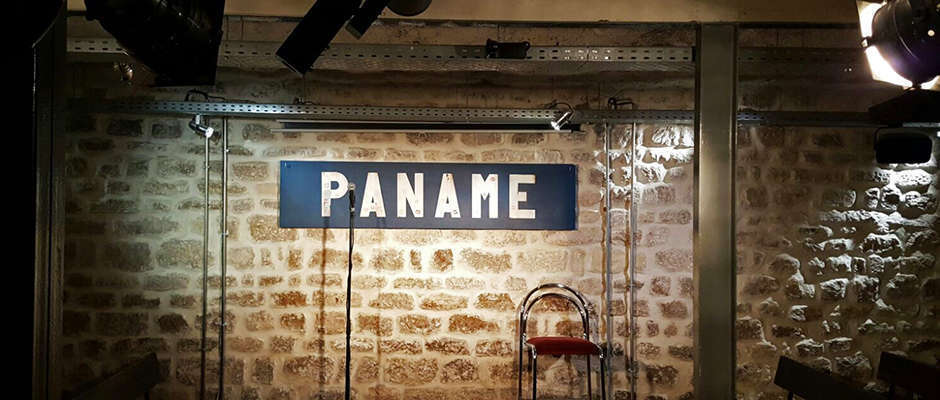 Le Paname Art Café (14, rue de la Fontaine au Roi): This spot is restaurant, bar and comedy club, all in one. It's an ideal spot to grab a drink and watch a one-man show downstairs. The Paname Art Café allows undiscovered, young comedians a platform to perform. If you want to watch a show all you have to do is reserve your spot online – it's free. At the end of the show a hat will be passed around the audience for donations. Find out more about their schedule online. 
Generator Hostels (9-11, place du Colonel Fabien): The Generator Hostels is a hostel with a hidden rooftop bar perfect for the summer: Khayma Rooftop Bar. With a breathtaking view of Sacré Coeur, especially around sunset, this spot is well worth your visit.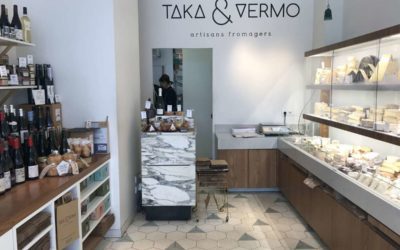 Quelques mois après s'être rencontrés, Mathieu et Laure décident de créer un projet commun autour de leur amour pour les produits laitiers. C'est ainsi qu'après un Tour de France des fromages à la rencontre des petits producteurs, la fromagerie Taka & Vermo voit le jour.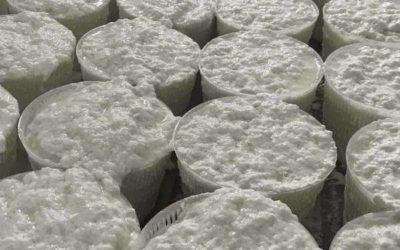 Better than Le Tour de France, le Tour de Fromage 🙂 Let's discover French cheese regions one cheese at a time.
Have a nice trip !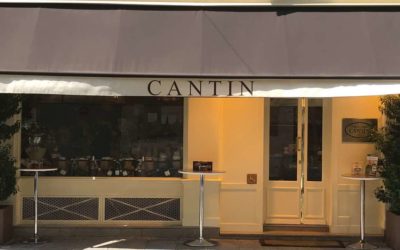 Fromagerie Cantin has opened in 1950, originally created by Marie-Anne Cantin's parents. As a child, she enjoyed selling cheeses and when she turned 25, Marie-Anne took over the family business.