La Fromagerie Monbleu: The Most Open
The most open-minded cheese shop in Paris
Monbleu brings together cheese shop and restaurant.
On the cheese shop side, the selection is limited but carefully chosen by Pierre Gay, awarded the French craftsmen title Meilleur Ouvrier de France. The menu includes several AOP classics, like Comté, Mozzarella di Bufalla, Beaufort, Saint-Nectaire or Brie de Meaux, but also lesser-known cheeses like Tomme des Aravis, Juniper Smoked Petit Chèvre or Bleu de Bonneval.
On the restaurant side, you'll find a wide variety of cheeses for customizing your own cheese board, but also more classic dishes like shell pasta with ham and Comté or a Gorgonzola cheeseburger. 
Only at Monbleu : Opening hours for a busy Parisian lifestyle, as the cheese shop is open from Monday to Saturday 10am to 9pm!
Olivier, the Cheesemonger
Do you have a favorite cheese?
I love farm-style Saint-Nectaire because it's different every time and because it's the first memory I have of cheese from when I was little. At about ten years old I went with my school to visit a cheese shop where they made Saint-Nectaire; I loved it so much that I bought a whole Saint-Nectaire with my pocket money. I'll always remember that experience, and it's the reason why if I had to choose just one cheese, it would be that one.
Is there a cheese you don't like ?
La Boulette d'Avesnes is a cheese made from Maroilles and worked with tarragon, pepper, garlic and paprika, which gives it a reddish color. Not a fan.
At the beginning of my career as a cheesemonger I ate a lot of cheese, almost all day long. However, since then, I decided to try doing days where I don't eat any cheese at all. I appreciate it even more when I sometimes do an all-cheese dinner or have cheese with pre-dinner drinks, but not after a meal. 
What's the weirdest or funniest thing that has happened in your career as a cheesemonger?
I liked working with Fabrice Gepner at Laurent Dubois because we had some good laughs. He liked to joke with the clients. When they would ask for a Trou du Cru cheese (which sounds remarkably like "butthole" in French) he would respond "behind you," and they would turn around. It was funny.  
What are your favorite cheese and drink pairings?
My favorite is a goat's milk cheese, like a Crottin de chèvre du Berry or a Crottin de chavignol, with a dry, fruity and slightly mineral white wine. 
What are your favorite cheese and side pairings?
At Monbleu our most popular side is candied espelette peppers. They're less sweet than a jam or a quince jelly, and they're a huge success. We pair them with a Tomme de brebis des Pyrénées, with a fresh goat's milk cheese or even a Comté. 
What's your best selling cheese?
Saint-Marcellin from La Maison Rochas, a family that makes the most incredible cheeses. It's the bomb. It's creamy, rich and has an amazing texture. It's a cheese that I often put on the restaurant menu. 
What specialty cheese can only be found at your cheese shop?
Our smoked goat's milk cheese is our little gem. It's a Picodon from the Drôme that we send to a butcher near Annecy, where it's smoked on juniper wood. But we also have a small cow's milk farm-style tomme from the Haute Savoie that you can only get from us or Pierre Gay.
Where did the idea of a cheese shop/restaurant come from?
Damien Richardot is the one who came up with the idea. He has several restaurants in Paris and always wanted to open a place with a focus on cheese. After having met Pierre Gay, awarded the prestigious Meilleur Ouvrier de France title for best cheesemonger, several years ago, they decided to create a restaurant all about cheese. Damien knows the restaurant industry well, while Pierre brings his expertise in cheese. They are two different but compatible professions.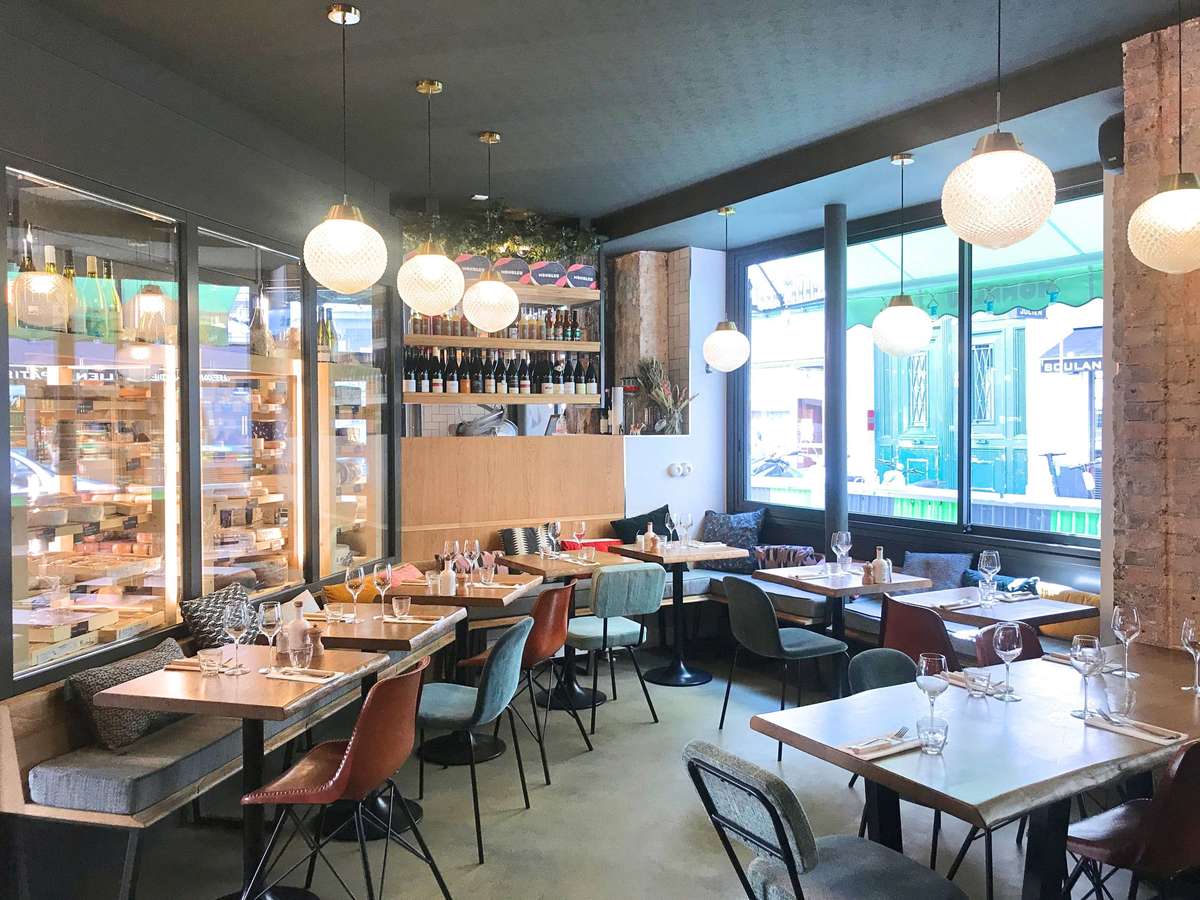 What's there to eat at Monbleu?
Each week I change the restaurant's selection of cheeses. Each week we have nine different cheeses on the restaurant menu. Since opening, we've served a variety of more than 160 different cheeses, which pushes me to look for new finds. It's fascinating! Aside from the cheese, we come up with new sides and cold meats, but also full dishes. 
Monbleu is one of the cheese shops with the largest window of opening hours – why is that ?
The cheese shop is open until 9pm from Monday to Saturday. This allows Parisians who get off work late to go grocery, or technically speaking, cheese shopping.  If you come to Monbleu after 9pm there won't be a cheesemonger on staff but you can ask the servers to help with your selection. A bottle of wine, a piece of Comté… most of the time they aren't too busy and will be happy to help!
Monbleu is a much talked about cheese shop – is that a good or a bad thing?
We're very happy that our spot has gotten a lot of attention. Monbleu's decoration was meant to be modern and esthetically pleasing, with beautiful windows looking out on the street, giving a rustic and industrial style. So we're happy when people come here to do their interviews, their photoshoots or to film shows. You've got to keep with the times. 
What role does Pierre Gay play at Monbleu?
Anytime I have a question I call him; he's always there to help me out and give advice. But his role is also to provide us with cheese. We order cheeses from him that he ages himself. That's why we have a lot of cheeses from the Rhônes Alpes region, like our Petit Chèvre, smoked by one of Pierre's butcher friends. 
What is your cheese shop's philosophy?
Our motto is "quality products, good attitude." We really try to have a selection of cheeses for reasonable prices to cater to those with tight budgets, students or otherwise. For example, we have a Brie de Meaux from the Donjet Family that's only €19.50/a kilo. 
In one word, how would you describe La Fromagerie Goncourt?
In short, go to La Fromagerie Monbleu:
If you work late, your fridge is empty and you're craving cheese. Monbleu's cheesemonger is at your service until 9pm. 
If you love cheeses from the Rhônes Alpes region. Know that it's La Fromagerie Monbleu's specialty, chosen by Pierre Gay, Meilleur Ouvrier de France, who is based in Annecy. 
If you feel like going out to eat cheese with friends at a cosy, modern and friendly restaurant. Pssst: there's even a ping pong table upstairs! 
Fromagerie Monbleu  
37, rue du Faubourg Montmartre 
75009 Paris 
01 45 89 23 96 
Hours:
Monday to Saturday 10am to 9pm
Sunday 10:30am to 4pm
Go to the Website
Go to the Facebook page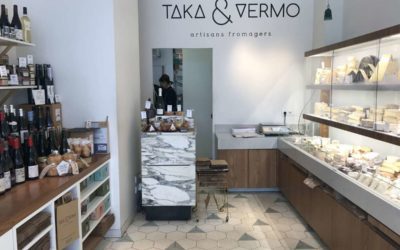 Quelques mois après s'être rencontrés, Mathieu et Laure décident de créer un projet commun autour de leur amour pour les produits laitiers. C'est ainsi qu'après un Tour de France des fromages à la rencontre des petits producteurs, la fromagerie Taka & Vermo voit le jour.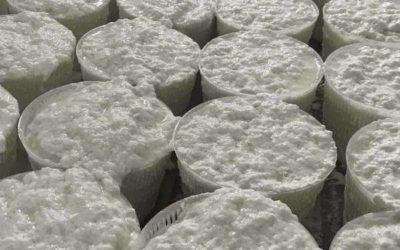 Better than Le Tour de France, le Tour de Fromage 🙂 Let's discover French cheese regions one cheese at a time.
Have a nice trip !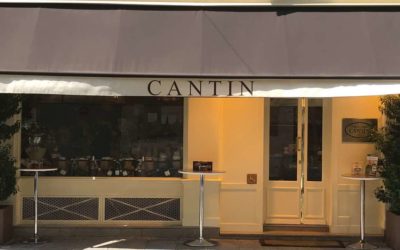 Fromagerie Cantin has opened in 1950, originally created by Marie-Anne Cantin's parents. As a child, she enjoyed selling cheeses and when she turned 25, Marie-Anne took over the family business.